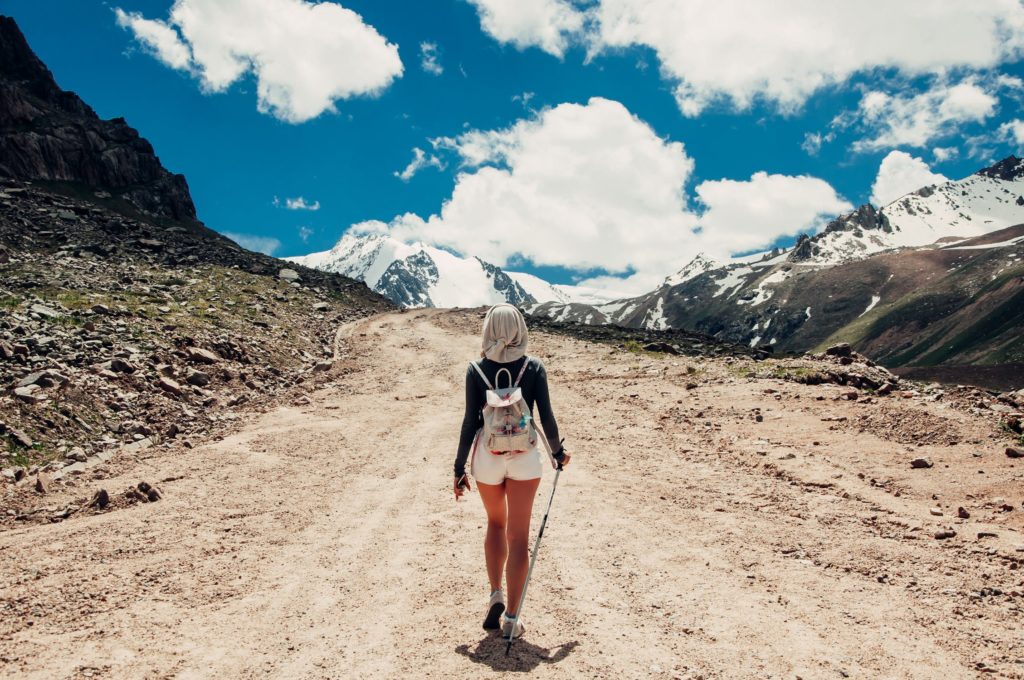 So you're planning your dream trip to Kilimanjaro, or perhaps Everest Base Camp. You're forensically researching gear and training like a boss, but did you know that us ladies have some extra things to consider on our adventures? As a seasoned adventure traveller and climber, I've visited some pretty remote places, and from my travels, I've learnt that a little planning and effort bear huge dividends when it comes to feeling comfortable and staying healthy. So here are my top 5 trekking tips for women to allow you to feel good and get on with enjoying your trek!
1. Gear
It may seem gimmicky, but there is a good reason for female-specific outdoor gear. In general women's hiking boots are made on a different last to men's, which means extra comfort over days of trekking.
On expeditions, I always seem to be colder than my male counterparts, so it's crucial to have extra layers for warmth. When buying gear look for merino wool base layers, which wick sweat away from your body and help you maintain comfortable body temperature.
Warm gloves are also a must, so make sure your gloves are warm enough for the conditions you will be experiencing. Bear in mind that temperatures near the summit are considerably colder than at sea level, so be sure to keep your hands and feet adequately protected and warm.
To keep your hair off your face something like a buff is ideal, as it multitasks as a headband, hair tie and a hat. Anything to avoid a head of tangled hair after a day of walking in nature's wind tunnel!
2. Periods
Travel, altitude and change of diet can do funny things to our bodies, so don't be surprised if your monthly cycle is thrown into disarray. Don't be surprised if your period is late, and equally be prepared for it to show up unannounced. If you are in a remote area it might be impossible to buy sanitary towels or tampons, so make sure you bring your own supply.
Having a period mid expedition is a serious inconvenience, not to mention the unwelcome cramping etc., so if you are on the contraceptive pill, it's worth talking to your doctor about the option of running two packets together to skip your period. Also concerning the pill, it's best not to change pills or start taking it for the first time before departure. You don't want any surprise side effects showing up unexpectedly on the mountain!
Also be prepared for an unwanted attack of thrush, which can happen at the most inconvenient times due to heat, environmental changes and travel. Pack an over the counter thrush cream in your medicine kit as a precaution.
3. Toilet needs
When it comes to bodily functions, expect to leave some of your dignity at the departure gate when you're on a trekking holiday or climbing expedition! Toilet facilities are likely to be basic or non-existent and often shared with your fellow trekkers. It's usually a case of finding the most discrete spot possible and taking your chances! One handy device is a sheewee. This allows you to pee standing up without having to sit down on (or hover over!) unsanitary toilet seats. It also avoids the necessity of fully undressing, which comes in very handy on crowded mountain trails. You can order it at https://www.shewee.com/
Another common irritation for us ladies on expeditions is cystitis, which can be triggered by the increased strain on your body. As with any minor health niggle a UTI can develop and become serious in remote areas away from medical treatment, so be sure to bring some Cystopurin sachets to deal with any issues before it becomes a problem.
4. Showering & sanitation
Showering and sanitation facilities will be basic at best, so wet wipes are your best friends. As well as giving you an all over body cleanse they're great for taking the day's grime and sweat off your face.
Also don't skimp on sun protection, as the sun is often at it's most intense in the mountains, reflected off the snow and without the benefits of trees for shade. Look for a moisturising aftersun to apply in the evenings to replenish your skin.
Foot health is vital for all climbers, and one of the most important things you can do to look after your feet is to ensure that your toenails are trimmed short at all times. Long toenails will come in contact with the front of your boots on the descent, leading to black toenails, lost toenails and ultimately putting an abrupt end to your sandal-wearing career. Pack a travel nail clippers in your backpack and keep them trimmed!
5. Safety
Depending on where you are trekking, you may be quite conspicuous as a female. You will also be in remote and sometimes hostile environments and may want to avoid drawing unwanted attention to yourself. It's best to trek with a reputable trekking company such as ourselves to avoid any dangers of solo trekking, and more importantly, leave you free to focus on the challenge at hand. On our treks and expeditions, every aspect of your safety is carefully planned, so all you have to do is enjoy your climb.
And most importantly……. Enjoy! Climbing Kilimanjaro or trekking to Everest Base Camp is once in a lifetime adventures, so be sure to enjoy every minute of your trip. If you have any worries about training or altitude issues, please give us a call so that we can help you get the most out of your adventure.
Your Adventure Consultant
Lyndsey