Welcome to a world of adventure, inspiration, and exploration through the written words of Pat Falvey. If you're a fan of captivating tales of resilience, adventure, and the human spirit, you've come to the right place. Pat Falvey, renowned adventurer, author, and speaker, has a collection of books that will transport you to the most remote corners of the world and share the profound lessons he's learned along the way. Whether you're an avid reader seeking your next thrilling adventure or looking for the perfect gift for an adventurous soul, Pat Falvey's books and gift vouchers offer an extraordinary journey waiting to be unwrapped. Join us as we delve into the stories that have inspired countless individuals to embark on their own life-changing expeditions and celebrate the spirit of adventure.
"In his autobiography, Pat Falvey – one of Ireland's most prolific adventurers – invites you on an incredible journey through the pages of his life. 'Accidental Rebel' is not just a book; it's a gripping narrative that tells the remarkable story of a man who dared to defy the boundaries of the ordinary, embarking on an extraordinary odyssey to chase his most audacious dreams.
With each turn of the page, you'll join Pat in his relentless quest to conquer the world's riskiest sports, an arena where the line between life and death blurs. Against the backdrop of a perilous landscape where thirty of his peers met their fate, 'Accidental Rebel' unveils the indomitable spirit of a true adventurer.
This book is a rollercoaster ride of emotions, seamlessly shifting between the fast-paced excitement of high-altitude climbs and the deep introspection that comes when facing one's inner demons. Pat's humor and honesty make the narrative all the more compelling, as he shares the triumphs and tribulations that have molded him into the person he is today.
In "You Have The Power: Explore The Mindset You Need To Realise Your Dreams," Pat Falvey extends a guiding hand to lead you on a transformative journey of self-discovery and personal empowerment. As an entrepreneur and adventurer, Falvey knows the trials and triumphs of pushing boundaries, chasing dreams, and defying the odds. Through this book, he generously shares the invaluable lessons he's garnered from a life defined by exploration and adventure.
With wisdom born from first-hand experience, Falvey delves into the profound importance of mindset, showing how it can be the defining factor in realizing your dreams and unleashing your full potential.
In these pages, you'll uncover the keys to unlocking your hidden potential, allowing you to create the life you've always aspired to live. By mastering the art of managing your mindset, you'll discover newfound strength and resilience, ultimately enabling you to navigate the challenges and uncertainties of life.
"The Summit: How Triumph Turned to Tragedy on K2's Deadliest Days" is a poignant and gripping account of the fateful 2008 climbing expedition to K2, one of the most treacherous peaks on Earth. This harrowing narrative is masterfully woven together by the combined voices of two seasoned mountaineers: Pat Falvey and Nepalese Sherpa Pemba Gyalje Sherpa.
This book takes you deep into the heart of a disaster that shook the world of mountaineering. Eleven climbers from diverse corners of the globe set out on an ambitious journey, only to face the unforgiving might of K2's deadly slopes. Drawing from Pemba Gyalje's eyewitness account, you'll find yourself transported to the very scene of the tragedy, experiencing the breathtaking highs and devastating lows alongside the climbers.
But "The Summit" offers more than just a chilling account of disaster. It is a profound exploration of the human spirit's capacity for resilience and heroism. Based on a series of interviews conducted for the award-winning documentary of the same name, this book brings you the most comprehensive interpretation of the events that unfolded during one of modern mountaineering's most controversial disasters.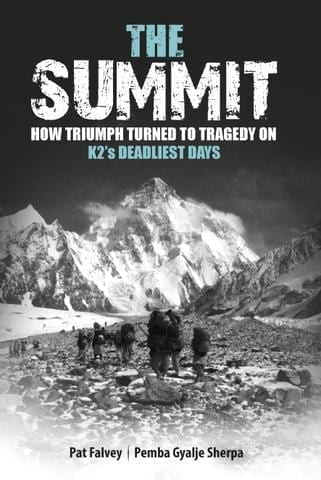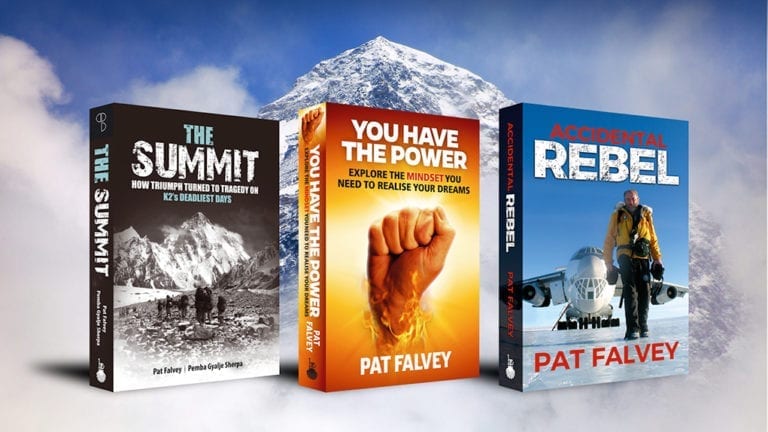 Certainly, if you're interested in acquiring the complete trilogy of books by Pat Falvey, including "The Summit," "You Have The Power," and "Accidental Rebel," you're in for an extraordinary journey of adventure, mindset exploration, and resilience. This trilogy offers a comprehensive insight into the life, experiences, and wisdom of a prolific adventurer and entrepreneur.
"The Summit" takes you on a gripping and emotional journey through a tragic climbing expedition on K2, while "You Have The Power" delves deep into the mindset needed to realize your dreams and overcome life's challenges. Finally, "Accidental Rebel" is an autobiography that chronicles Pat Falvey's epic life, filled with humor, reflection, and the lessons learned from a life of adventure.
Together, these books offer a well-rounded view of Pat Falvey's incredible life and the principles that have guided him on his adventures. You'll be inspired, entertained, and enlightened by this trilogy. Whether you're an adventure enthusiast or simply seeking personal growth and inspiration, this collection has something to offer for everyone. Enjoy this remarkable literary journey with Pat Falvey's trilogy.
Gift the gift of adventure and inspiration with a Pat Falvey gift voucher! Sometimes, finding the perfect present can be a challenging task, but with our versatile vouchers, you can give your loved ones the freedom to choose their own adventure.
Our gift vouchers come with specifications designed to make them truly special:
No Expiry Date: Pat Falvey's gift vouchers are timeless. There's no need to rush; they'll remain valid for as long as desired, ensuring your recipient has the flexibility to plan their adventure on their terms.
Multiple Denominations: We understand that one size doesn't fit all. That's why our vouchers are available in various denominations, allowing you to tailor your gift to your budget and your loved one's preferences.
Adventurous Getaways: Not only can they be used to purchase books, but our vouchers also offer the thrilling opportunity to contribute towards the price of one of our remarkable trips. This means your recipient can embark on an epic adventure they've been dreaming of.
Whether it's a special occasion, a birthday, or an anniversary, a Pat Falvey gift voucher is the perfect choice. It's a gift that opens the door to limitless possibilities, allowing your recipient to create memories that will last a lifetime. Don't wait – purchase one of our vouchers today and give the gift of adventure!