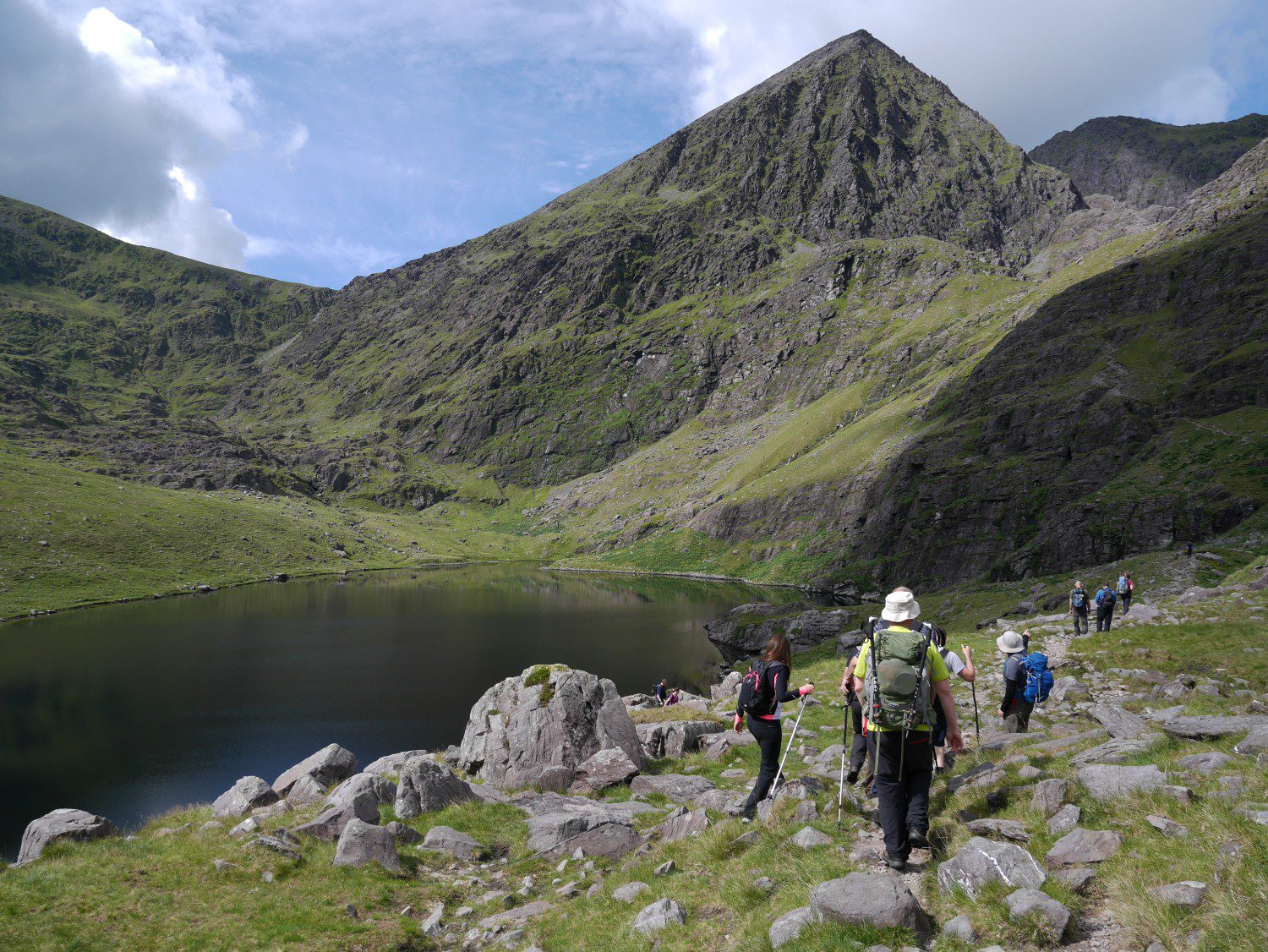 The Irish Munros
In 1891, Sir Hugh Munro published a list of Scottish peaks that were over 3,000 feet. Over time, any peak or summit over 3,000 feet in Britain and Ireland came to be known as a Munro and additional lists were published showing the Munros in England, Wales and Ireland. The peaks on the list shown below are the 14 Irish Munros.
Note: 
The list shown below is based on the information on the MCI web site which in turn was based on original information from a Joss Lynam. 

For a peak to be included, the height gain from the highest saddle is at least 15m. 
| # | Name | Range | Height (Meters) | Height (Feet) |
| --- | --- | --- | --- | --- |
| 1 | Carrauntoohil | MacGillycuddy Reeks | 1039 | 3409 |
| 2 | Beenkeragh | MacGillycuddy Reeks | 1010 | 3314 |
| 3 | Caher(East) | MacGillycuddy Reeks | 1001 | 3284 |
| 4 | Cnoc ná Péiste | MacGillycuddy Reeks | 988 | 3241 |
| 5 | Caher(West) | MacGillycuddy Reeks | 975 | 3199 |
| 6 | Maolán Buí | MacGillycuddy Reeks | 973 | 3192 |
| 7 | Carrauntoohil Tooth | MacGillycuddy Reeks | 973 | 3146 |
| 8 | Cnoc an Chuillin | MacGillycuddy Reeks | 958 | 3143 |
| 9 | Brandon | Brandon Group | 952 | 3123 |
| 10 | The Big Gun | MacGillycuddy Reeks | 939 | 3081 |
| 11 | Cruach Mhór | MacGillycuddy Reeks | 932 | 3058 |
| 12 | L.Coimín Móir  | MacGillycuddy Reeks | 926 | 3038 |
| 13 | Lugnaquillia | Dublin/Wicklow | 925 | 3035 |
| 14 | Galtymore | Galty Mountains | 919 | 3015 |