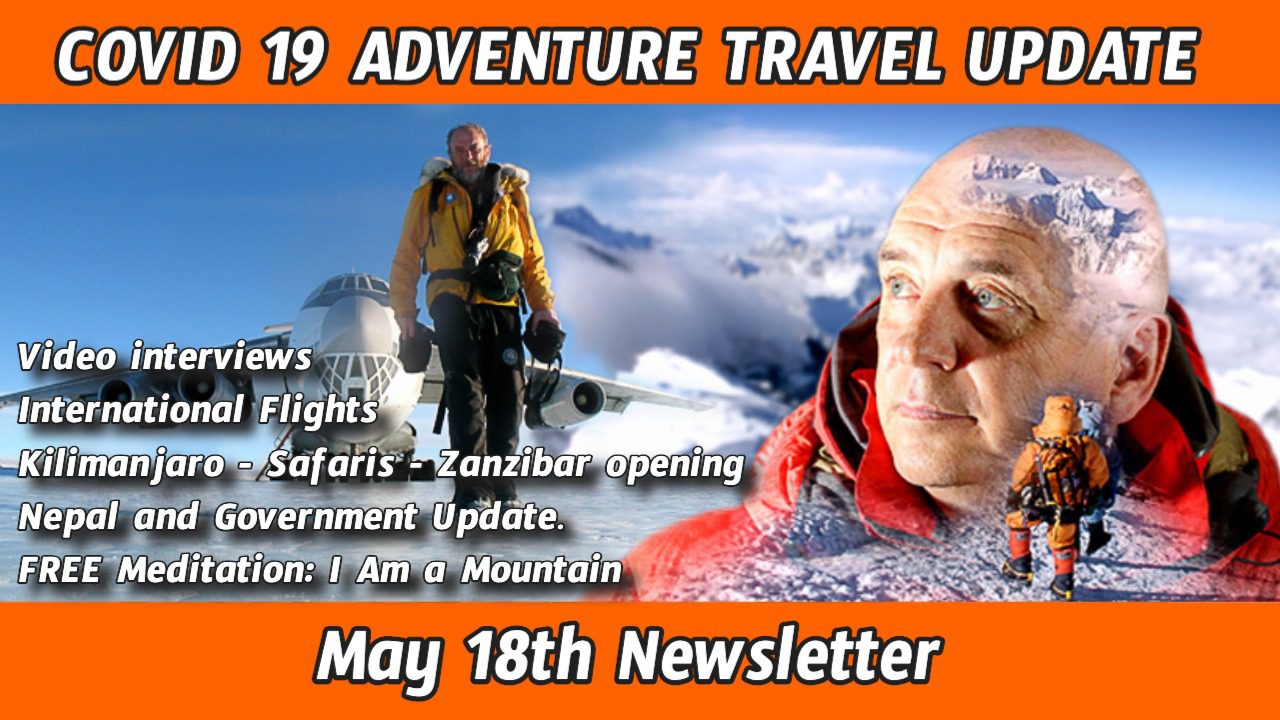 Pat Falvey COVID-19 Adventure Travel update
I hope you and your loved ones are keeping well and safe at the moment. This is a strange and uncertain time and I wanted to get in touch with a few video updates that my team and I have put together recently.
We have postponed all of our International treks, holidays, expeditions worldwide until 31st July 2020 and we will be reviewing the situation for our trips in August to December over the coming weeks. And we hope to be back to normal for 2021.
Obviously we all want to get back to normal life but with patience, this will happen. In the meantime I hope you find the below information useful.
I will also be doing a Free Live Webinar at 7:30pm GMT on Thursday 11th June. Please email pat@patfalvey.com to register as there are limited places available.
If we can help you with anything please just go to the website www.patfalvey.com or call my office on +353 64 6644181
Best regards,
Pat
Pat Falvey Explorer | Speaker | Mentor | Coach | Author | Entrepreneur Pat Falvey Irish and Worldwide Adventures limited trading as Pat Falvey:Ireland's leading adventure company is bonded and fully licensed by the Irish Commission for Aviation Regulation, TA0791.
COVID-19 Flight Cancellation information to Nepal, Africa, Russia, South America. May 2020
COVID-19 International flights: This is an update to all adventurers, trekkers, walkers and holidaymakers heading to Nepal, Africa, South America, Aconcagua and Russia. Please keep posted as we will be updating all of these areas over the coming months.
NEWS UPDATE ON CLIMBING KILIMANJARO and travelling in Tanzania and Zanzibar. May 2020
An update from Samira, our Manager in Tanzania on the situation there, the current restrictions and the measures which will be taken for safely opening up in the coming months. Thankfully Tanzania and Zanzibar have taken the situation seriously and there have been a low number of COVID-19 cases to date.
Nepal News May 2020 on Lockdown
The Nepalese Government Ministry of Health confirmed on Friday the 8th of May only 135 confirmed cases and no deaths in a population of 28 million people. Everyone in Nepal is surprised this to be the case and are themselves baffled. They feel that one of the reasons is that maybe for the last 50 years that the total population has been treated with the tuberculosis vaccine. There is no positive proof of this and scientists are checking this out. The fear is that if the COVID pandemic takes off that they have limited resources and if they don't continue with all the precautions of lockdown that the consequences of the spreading would be devastating. My team and I will keep you updated with news on when Nepal will be opening up for trekking again. 
FREE Guided Meditation – I am a Mountain: De – stress : Breathe : Relax
We all live busy lives and we sometimes say "we don't have a minute". This means we don't have time for me and this can cause huge stress, being anxious and not being the best that you can be. Take time out of your busy life and breath. In this meditation, I use the analogy of the Mountain. We are like a mountain.
You are stable and strong just like a mountain; you can weather the harshest of weathers. You, just like the mountain will not be blown over or damaged by any external forces. No rain or wind or storm will cause you to fall down, you will overcome any danger. Remember if there is no enemy within, the enemy outside can do us no harm. Join me on this meditation above.