Hill walking encapsulates the ideology that you should be independent and able to look after yourself. So here are a few tips about staying safe and independent while you enjoy the outdoors.
Be prepared
The more time you spend in the mountains, the more you'll realise that the mountain environment is a 'law unto itself' – one minute you're putting on suntan lotion and the next there's a howling gale blowing. Knowledge is power, but the secret to being safe is to understand the mountain environment and to prepare for anything it can throw at you.
Let friends know your destination
The effectiveness of mountain rescue teams is improved if a description of your plans is available. You could leave a map with the intended route. The advantage of route cards, especially when you are starting to plan and navigate, is that it forces you to look in detail at your intended route. If you do leave a route card or map, let people know on your return. The downside is that you may change your plans.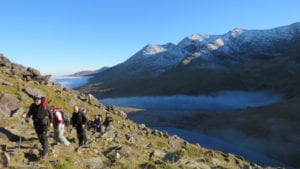 Carry the correct equipment
 
There is no such thing as bad weather only inappropriate clothing and equipment but don't be fooled that having the latest equipment can turn you into a competent mountaineer overnight or will prevent an accident. If you carry kit, for all scenario's you will travel so slowly you will end up needing it but leave something behind, and that'll be the thing you need. Gradually, by gaining experience in the hills, you will get to know what to leave out and when.
Plan your route
Just looking at a map and asking questions before setting off or drawing the intended route on a map, will ultimately save you time during your walk. If the weather is terrible and the path complicated put bearings and distances for critical stages of the journey.
Ask yourself:
Have you packed your rucksack with the necessary items?
What is the weather going to be like – bad weather and poor visibility can dramatically affect-estimated times.
What route are you taking?
How steep is the terrain – you may have to zigzag your route for comfort, but this will take longer?
What is the terrain? Are there boulders, scree or boggy vegetated ground that may slow you down and can they be avoided
Streams – these can quickly become impassable in heavy rain.
Break your route down into smaller sections.
Create a mental picture of the legs.
Are you going around hills or over them?
What general direction are you heading?
Are there any prominent features you will pass on the way, e.g. streams, paths, buildings, valleys, steep hills?
How far is it?
How long will it take?
Are there any dangers, for example, steep slopes, hidden cliffs?
Rucksack essentials for walking
Map (in a watertight case)
Compass (optional GPS receiver)
Extra clothing
Extra food and water
First aid kit
Head torch (extra bulb/batteries)
Knife (or multi-use tool)
Sunglasses
Sunscreen
Water bottle
Whistle
Emergency survival bag